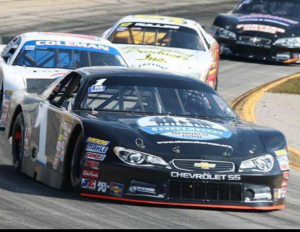 The Chance Harman Memorial Foundation is pleased to announce that NASCAR Driver Jamie Sweeney will be driving the Martinsville Speedway short track with 'Chance' on his hood once again this weekend. The ValleyStar Credit Union 300 is scheduled for Saturday, September 23rd under the new LED lights at the famous short track. It is said to be the biggest, richest, most prestigious NASCAR Late Model Stock car race in the country. The winner takes home $25,000, a grandfather clock and probably most importantly, bragging rights for a year.
Jamie Sweeney, originally from Floyd, Virginia, has been around racing all of his life. His father owned several cars, but when asked who his favorite driver was, Sweeney said it was Tim Richmond. "Richmond was a daredevil. I looked up to him because it didn't matter what car you put him in, he had the skill to win. Out of all the drivers in my Dad's cars, he impressed me the most." When Jamie was around seven years old he remembered his dad telling him that he had to stay on the trailer to keep him out of harm's way during practice. Richmond would come sit with him and talk to him when he wasn't racing saying, "If you're going to have to sit on this trailer, then I'm going to have to sit with you."
Jamie was very pleased with the new LED lights at Martinsville Speedway. For years the short track drivers would race on Saturday night, but it shifted to Sunday afternoon in recent years. "Martinsville made it possible to return to Saturday night racing, which opens it up to more folks to attend," said Jamie. "When they first turned on the lights, it was so bright it was almost like daylight. The fans loved it and cheered. Then, we were all treated to a light show that pretty spectacular." Fans are sure to appreciate the improvements for many years to come.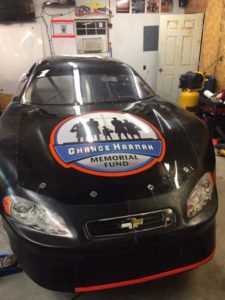 Jamie remembers well, the impact four-year old Chance Harman had on his community. "Between Joshua (Cantrell) and Chance, both boys with cancer at the same time, I kept up with it. Here was a boy that was suffering with cancer and was only four years old. In every picture or everything he did, he always smiled," said Jamie during an interview this week. When asked what he thought about the Chance Harman Memorial Foundation, Sweeney said, "It makes them (the Harman's) some of God's angels. They lost one of their own, but they are doing what they can to make it better for others. I feel blessed to know Brian and his family and to see what God has put into their hearts. As a parent myself, I can imagine it takes time to heal, but with the Chance Harman Classic, they keep Chance alive in our hearts. He may not be here in body, but he is always in our hearts."
The Foundation's logo will be front and center on his car this weekend. The first year he drove with 'Chance' he experienced what he called a miracle. During a '25 Last Chance Race', in which drivers, who are at the bottom of race standing, run a short race to see who can finish in the top ten to advance to the main race, Sweeney's car was shoved into a turn, went air born and landed hard. He managed to keep the car going, telling his crew chief that despite the wreck, the car still felt good and he was sure he could catch up. He fell back to 13th position and began making up time. Finishing in eighth place, he qualified to run in the main race the next day. When his crew began to check out the car, they found that the hard landing had caused the left rear tire to go completely flat, leaving him to ride on the rim. The right front lower control arm was literally being held together by a spot weld. The right front shock was broken and bent into a horseshoe shape and the left front shock was completely blown out. The car was in terrible shape and should have been impossible to handle. In fact, the only part of the car still in perfect condition was the hood. The hood with Chance's image on it. His crew was amazed. "I've got a little angel running with me. Since the first year we put Chance on the hood, we have always finished in the top ten."
Brian and Desirae Harman founded #CMHF in 2008 in memory of their son Chance, who passed away in July 2007 from brain cancer at the age of four. The first Chance Harman Classic, a basketball tournament for select high school teams, was held in January of 2008. Since then, the tournament success has grown and on the first weekend of January 2018 will once again host 26 teams from across Virginia, West Virginia and North Carolina in a two day exhibition tournament. This year they celebrated the 10th Anniversary of the Chance Harman Classic. To date they have raised more than $250,000. A large portion of the funds have been delivered to Duke University Hospital, specifically for Pediatric Brain Cancer Research. In addition, more than 60 college scholarships for local athletes have been awarded as the fight continues. Giving everyone a CHANCE!